Silica, Pure Flint, Silica Terra, Silicon Dioxide, Schuessler Tissue Salt, Cell Salts, Tissue Salts, Biochemic Tissue / Cell Salt Number # 12 / Twelve, Sil.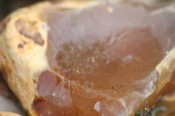 Please see our remedy relationship tool to view relationships across more than two remedies

Below are the main rubriks (i.e strongest indications or symptoms) of Silicea in traditional homeopathic usage, not approved by the FDA.
RELATIONSHIPS
Compare
Compare Gettysburg water (soreness between vertebrae worse on motion, pus from joints, as in caries of vertebrae, hip-joint disease, etc.).
Complementary
Complementary to Thuja Thuja.
Relationship
Silica Marina Silic. is frequently indicated after; Belladonna Bellad., Bryonia Bryon., Calc Carb Calc. ostr., Cina Cina, Graphit., Hep Sulph Calc Hepar, Ignatia Ignat., Nitric Acid Nitr. ac., Phosphorus Phosphor.
Lachesis Laches., Lycopodium Lycop., Sepia Sepia, also follow well.
Antidotes
After Silica Marina Silic.; Hydrofluoricum Acidum Fluor. ac, which also antidotes its abuse; Hep Sulph Calc Hepar, if pimples appear around the ulcer.
Silica Marina Silic. antidotes; the abuse of Merc Viv mercury, but does not follow the potentized Merc Viv Mercur. well; Sulphur Sulphur.
Antidotes to Silica Marina Silic. Hydrofluoricum Acidum Fluor. ac., Hep Sulph Calc Hepar.
REVERSE RELATIONSHIPS
These are relationship sections of other remedies that refer to Silicea. Where the text is greyed out, a relationship with that remedy is already described above.