Silica, Pure Flint, Silica Terra, Silicon Dioxide, Schuessler Tissue Salt, Cell Salts, Tissue Salts, Biochemic Tissue / Cell Salt Number # 12 / Twelve, Sil.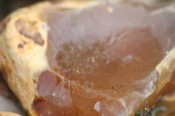 Below are the main rubriks (i.e strongest indications or symptoms) of Silicea in traditional homeopathic usage, not approved by the FDA.


Please see our remedy relationship tool to view relationships across more than two remedies
RELATIONSHIPS
Complementary
Irritable and irascible when aroused; when let alone he is timid, retiring, wants to shirk everything; mild, gentle tearful women. The Silica child is cross and cries when spoken to. It is the natural complement and chronic of Pulsatilla Puls because of its great similarity; it is a deeper, more profound remedy.
to Calc Carb Calc., Pulsatilla Puls., and Thuja Thuja.
REVERSE RELATIONSHIPS
These are relationship sections of other remedies that refer to Silicea. Where the text is greyed out, a relationship with that remedy is already described above.