Silica, Pure Flint, Silica Terra, Silicon Dioxide, Schuessler Tissue Salt, Cell Salts, Tissue Salts, Biochemic Tissue / Cell Salt Number # 12 / Twelve, Sil.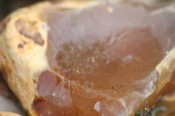 Below are the main rubriks (i.e strongest indications or symptoms) of Silicea in traditional homeopathic usage, not approved by the FDA.


Have you ever used Silicea? Yes No

SKIN
Skin
Felons, abscesses, boils, old fistulous ulcers
Delicate, pale, waxy
Cracks at ends of fingers
Painless swelling of glands
Rose-colored blotches
Scars suddenly become painful
Pus offensive
Promotes expulsion of foreign bodies from tissues
Every little injury suppurates
Long lasting suppuration and fistulous tracts
Dry finger tips
Eruptions itch only in daytime and evening
Crippled nails
Indurated tumors
Abscesses of joints
After impure vaccination
Bursa
Lepra, nodes, and coppery spots
Keloid growths.
≡ more ...