Silica, Pure Flint, Silica Terra, Silicon Dioxide, Schuessler Tissue Salt, Cell Salts, Tissue Salts, Biochemic Tissue / Cell Salt Number # 12 / Twelve, Sil.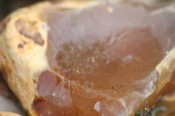 Below are the main rubriks (i.e strongest indications or symptoms) of Silicea in traditional homeopathic usage, not approved by the FDA.


Have you ever used Silicea? Yes No

SKIN
Skin
Painful sensibility of skin.
Itching over whole body, which is of a crawling or shooting kind (agg. at night).
Eruption like varicella over whole body.
Tuberous spots on skin, of a light red colour.
Lymphatic swellings and abscesses, even with fistulous ulcers.
Engorgement, induration, and suppuration of the glands.
Painless swelling of the glands; they only cause very unpleasant itching.
Bones very sensitive and tender to touch; bending and caries of bones.
Abscesses which do not break, but burrow under the skin; exanthemata in general which corrode and spread; old and difficult to heal; which itch; fungus articularis; haematodes; spongy excrescences.
Tetters in general; corroding and spreading.
Ulcers in general, wherever pus is discharged from any part of the body, or when appearing in the urine; ulcers burning, scabby; indolent; when circumscribed with redness; very high, hard ulcers; with proud flesh; with corroding pus.
Ulcers of all kinds, also after the abuse of Merc Viv Mercury.
Ulcers smell very offensive.
Inflammation, softening (swelling), and ulceration of bones.
Scirrhous indurations.
Ulcers, which are fistulous, putrid; phagedenic, fungous, &c., with vegetation, or fetid and corroding sanies.
Fistulous openings; parts around hard, swollen, bluish-red.
Mild and malignant suppurations, esp. in membranous parts.
Unhealthy skin; every injury tends to ulceration.
Small wounds heal with difficulty, and suppurate profusely.
Painful pustular eruptions; at last forming suppurating ulcers; on forehead, occiput, sternum, and spine.
Aching, itching, smarting, and boring shootings in the ulcers.
Furunculi.
Carbuncles of a malignant kind.
Ganglions.
Warts.
Panaritium.
≡ more ...