Silica, Pure Flint, Silica Terra, Silicon Dioxide, Schuessler Tissue Salt, Cell Salts, Tissue Salts, Biochemic Tissue / Cell Salt Number # 12 / Twelve, Sil.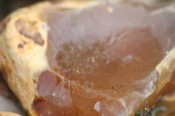 Below are the main rubriks (i.e strongest indications or symptoms) of Silicea in traditional homeopathic usage, not approved by the FDA.


Have you ever used Silicea? Yes No

SKIN
Skin
Skin wax-like. θ Tuberculosis. θ Caries.
Yellow, earthy skin; sometimes covered with pityriasis.
Itching exanthema; small pustules filled with lymph, dying quickly.
Eruption burns only by day. θ Acne.
Small wounds suppurate profusely.
Eczematous, impetiginous, or herpetic eruptions.
Rhagades around eyelids, lips, etc.
Rose-colored blotches.
Small blisters.
Pemphigus.
Zona.
Erysipelas, with suppuration; deep-seated, phlegmonous erysipelas.
Boils come in crops; tendency to boils; leave indurations.
Abscesses speedily "point", but secretion of pus is too scanty.
Malignant pustule.
Ulcers from suppuration of membranous parts; phagedenic; extend in depth; after abuse of Merc Viv mercury; offensive, with ichor, proud flesh, stinging, burning, itching; edges hard, high or spongy.
Carbuncles 29, 31, 46.
Large fleshy warts, suppurating.
Variola; suppuration exhausts the patients, and desiccation delays; bone diseases as sequelae.
≡ more ...