Silica, Pure Flint, Silica Terra, Silicon Dioxide, Schuessler Tissue Salt, Cell Salts, Tissue Salts, Biochemic Tissue / Cell Salt Number # 12 / Twelve, Sil.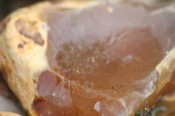 Have you ever used Silicea? Yes No


Below are the main rubriks (i.e strongest indications or symptoms) of Silicea in traditional homeopathic usage, not approved by the FDA.
THROAT
Throat
Tough slime in the fauces.
Tonsils swollen, each effort to swallow distorts face.
Tonsillitis when the suppurating gland will not heal.
Pricking in throat, as from a pin, causing cough.
Throat feels as if filled up, as if he could not swallow; frequent cough bringing up white, frothy, saltish mucus; worse toward evening.
Paralysis of the velum palati; food is ejected through the nose.
Painful swallowing, no inflammation; hysteria.
Swallowing difficult, as from paralysis.
Food gets easily into the choanae.
Larynx
Hoarseness, roughness of larynx.
Husky voice; worse morning; chronic coryza.
Fibrous, painless swelling on larynx, connected with thyroid cartilage.
≡ more ...