Silicea - Vertigo, Dizziness symptoms
Silica, Pure Flint, Silica Terra, Silicon Dioxide, Schuessler Tissue Salt, Cell Salts, Tissue Salts, Biochemic Tissue / Cell Salt Number # 12 / Twelve Sil.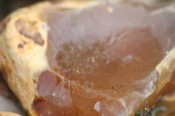 Below are the main rubriks (i.e strongest indications or symptoms) of Silicea in traditional homeopathic usage, not approved by the FDA.
VERTIGO, DIZZINESS
Vertigo
Vertigo from looking up; Better, wrapping up warmly; when lying on left side ( magnes)
Morning
Morning
in bed
during breakfast
on rising
after rising
Afternoon
Evening
Night
on waking
In open air
Comes up the back
On closing eyes
Continuous
As if lifted up
While eating
during breakfast
during dinner
Epileptic
On exertion of vision
Tendency to fall over
falling backward
falling forward
falling sideways
falling to right
During headache
From head; at back of head (occiput)
In house
on entering house
As if intoxicated
From looking at.
looking upwards
looking steadily
Must lie down
Lying down
When lying down
while lying down
lying on back
lying on side; on left side
While meditating
while walking in open air
In women; when period is suppressed
Mental exertion
From movement
With nausea
Perception of objects distorted; seem to turn in a circle
Rest
While travelling
Swaying; toward right
On rising
from bed
from stooping
from lying on back facing upwards
Sitting
While sitting
sitting up in bed
During sleep
While half asleep
With sleepiness; at the same time
From smoking
While standing
On stooping
Walking
While walking
while in the open air
≡ more ...