Chickweed, Stellaria, Stel.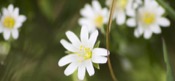 Have you ever used Stellaria Media? Yes No


< < Stellaria Media- main page

Below are the main rubriks (i.e strongest indications or symptoms) of Stellaria Media in traditional homeopathic usage, not approved by the FDA.
GENERAL
General
Induces a condition of stasis, congestion, and sluggishness of all functions. Morning worse.
Sharp, Shifting, rheumatic pains in all parts very pronounced. Rheumatism; darting pains in almost every part; stiffness of joints; parts sore to touch; worse motion. Chronic rheumatism. shifting pains ( Pulsatilla Puls.; Kali Sulphuricum Kali-sulph.) Psoriasis. Enlarged and inflamed gouty finger joints.
Dose
Tincture, externally. Internally, 2x potency.