Sublimated Sulphur, Sulpher, Sul, Sulfur, Sulf, Sulph.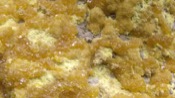 Have you ever used Sulphur? Yes No


Below are the main rubriks (i.e strongest indications or symptoms) of Sulphur in traditional homeopathic usage, not approved by the FDA.
ABDOMEN
Abdomen
Stomach; Complete loss of, or excessive appetite
Drinks much, eats little
Milk disagrees
Great desire for sweets (Argentum Nitricum arg nit)
Burning, painful, weight-like pressure
Very weak and faint about 11 am; must have something to eat
Water fills the patient up.
Very sensitive to pressure; internal feeling of rawness and soreness
Movements as of something alive (Crocus Sativus Croc; Thuja Thuj)
Pain and soreness over liver
Colic after drinking.
Eating
Food tastes too salty
Eructation
Putrid eructation
Great acidity, sour eructation
Nausea
Nausea during gestation
≡ more ...