Sublimated Sulphur, Sulpher, Sul, Sulfur, Sulf, Sulph.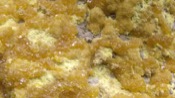 Have you ever used Sulphur? Yes No


Below are the main rubriks (i.e strongest indications or symptoms) of Sulphur in traditional homeopathic usage, not approved by the FDA.
ABDOMEN
Abdomen
Intestines feel as if strung in knots, worse from bending forward.
Rolling and rumbling in bowels, as if empty.
Colic after eating or drinking, obliging one to bend double, worse from sweet things.
Painful sensitiveness of abdomen to touch, as if internally raw and sore.
Painful swelling of inguinal glands.
Big belly and emaciated limbs, with children.
Flatus
Incarcerated flatulence in left side of abdomen, with heaviness, fulness and constipation.
Hypochondria
Stitches, or pressing pain in region of liver.
Swelling and hardness of liver.
Stitches in spleen, worse when taking a deep inspiration, and when walking.
Stitches in left side of abdomen, when coughing.
Stomach
Sensitiveness to touch in region of stomach.
Marked weakness about 11 A.M., empty, gone, or faint feeling.
Pressure at stomach, also after eating.
≡ more ...