Sublimated Sulphur, Sulpher, Sul, Sulfur, Sulf, Sulph.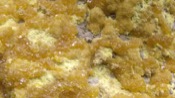 Have you ever used Sulphur? Yes No


Below are the main rubriks (i.e strongest indications or symptoms) of Sulphur in traditional homeopathic usage, not approved by the FDA.
COUGH
Cough
Dry, choking; short, dry, with stitches in chest, or under left scapula; dry, with hoarseness dryness in throat and watery coryza; with much rattling of mucus in chest; loose, with soreness and pressure in chest; expectoration of thick mucus; rattling in trachea; hoarseness; expectorating greenish lumps of sweetish taste.
Expectoration of bloody pus.
When coughing headache, as if bruised or torn; sometimes vomiting; pain in abdomen.
Spasmodic whooping-cough, two paroxysms in quick succession.
In the paroxysm the successions follow each other rapidly.
Cough excited by tickling in the larynx, as if caused by "down", evening and night without, morning and day with, expectoration of dark blood, or of yellow, greenish, purulent, or milk-white, watery mucus; usually of sourish, sometimes putrid, flat, or saltish taste, or like the offensive discharge of an old catarrh.
≡ more ...