Sublimated Sulphur, Sulpher, Sul, Sulfur, Sulf, Sulph.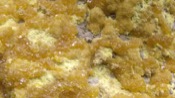 Have you ever used Sulphur? Yes No


Below are the main rubriks (i.e strongest indications or symptoms) of Sulphur in traditional homeopathic usage, not approved by the FDA.
EXTREMITIES, LIMBS
Extremities, limbs
Chilblains thick and red, with cracks on joints.
Corns, with aching and stinging pains.
Limbs "go to sleep".
Tearing in limbs, muscles and joints, from above downward.
Weakness, cracking, swelling of joints.
Gouty or rheumatic complaints, with or without swelling.
Pain in limbs, worse when covered with feather covering.
Upper extremities
Pain as if sprained, or as if bruised in left shoulder.
Rheumatic pains in shoulders, especially the left.
Lacerating pains in shoulders and shoulder-joints, especially at night.
Drawing and tearing in arms and hands.
Sweat in arm-pit, smelling like garlic.
Rhagades on hands, especially between fingers, on finger-joints and in palms.
Thick red chilblains on fingers.
Numbness of fingers, in morning.
Cold hands and feet.
Lower extremities
Heaviness of limbs when walking.
Swelling of knees, white or red.
Dropsy of the knee-joints.
Stiffness of knee and ankle-joints.
Cramp in calves at night, also with diarrhoea; in soles at every step.
Burning soles, wants them uncovered.
Soles cold but sweating.
≡ more ...