Sublimated Sulphur, Sulpher, Sul, Sulfur, Sulf, Sulph.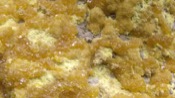 Have you ever used Sulphur? Yes No


Below are the main rubriks (i.e strongest indications or symptoms) of Sulphur in traditional homeopathic usage, not approved by the FDA.
FACE
Face
Face pale or yellowish, with sickly complexion; and eyes deep sunken, surrounded by a blue circle.
Heat and burning sensation in face, with deep redness of whole face, circumscribed redness of cheeks, or else red spots, also on neck.
Pale or red swelling of face.
Swelling of cheeks, with lancinating pain.
Pain tearing in r. half of face; pressure on malar bone and beneath eye; stabbing below l. zygoma with darting up side of head.
Pain in all three divisions of fifth nerve (l.); from exposure to cold; draught of air; worry; beginning 5 p.m., lasts with slight intermissions three or four days; besides sharp dartings every few moments; extreme external sensitiveness.
Drawing, sharp pain, sensation as from a bruise, pressive and burning sensation in cheek-bones.
Erysipelas of face (beginning on r. ear and spreading over face).
Phlegmonous erysipelas in face, chiefly in eyelids, nose, and (l.) ear.
Roughness and redness of skin of face.
Eruption of pimples on face and on forehead.
Itching and moist tetters over whole face, chiefly above nose, round eyes, and in eyelids; small white vesicles in groups and forming scabs.
Ephelides and black pores in face, chiefly on nose, lips, and chin.
Lips dry, rough, and cracked.
Burning sensation and continued heat of lips.
Yellowish hepatic spots on upper lip.
Tinea faciei.
Trembling and jerking of lips.
Swelling of lips.
Swelling of lower lip with eruption on it.
Scabious ulcer on red of lip.
Herpetic eruption in corner of mouth.
Painful eruption round chin.
Sharp, lancinating, and drawing pains, and painful swelling in jaws.
Swelling of submaxillary glands, with pains and lancinations when touched.
≡ more ...