Sublimated Sulphur, Sulpher, Sul, Sulfur, Sulf, Sulph.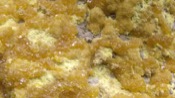 Below are the main rubriks (i.e strongest indications or symptoms) of Sulphur in traditional homeopathic usage, not approved by the FDA.


Have you ever used Sulphur? Yes No

FACE
Face
Face pale, sickly looking; pale, eyes sunken, and with blue margins; spotted red; circumscribed redness of the cheeks; freckled.
Erysipelas, beginning at right ear and spreading over face.
Swelling of the cheek, with pricking pain.
Lower face
Painful eruption around the chin.
Herpes at the corners of mouth.
Bright redness of lips, particularly with children.
Swelling of lips, especially upper lip.
Lips dry, rough, and cracked.
Burning, twitching, or trembling of lips.
≡ more ...