Sublimated Sulphur, Sulpher, Sul, Sulfur, Sulf, Sulph.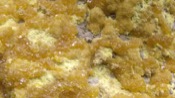 Below are the main rubriks (i.e strongest indications or symptoms) of Sulphur in traditional homeopathic usage, not approved by the FDA.


Have you ever used Sulphur? Yes No

GENERALITIES
Sleep and dreams
Talks, jerks, and twitches during sleep
Vivid dreams
Wakes up singing
Wakes frequently, and becomes wide awake suddenly
Catnaps; slightest noise awakens
Cannot sleep between 2 an 5 am.
≡ more ...