Sublimated Sulphur, Sulpher, Sul, Sulfur, Sulf, Sulph.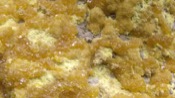 Have you ever used Sulphur? Yes No


Below are the main rubriks (i.e strongest indications or symptoms) of Sulphur in traditional homeopathic usage, not approved by the FDA.
HEAD
Headache
Sensitiveness of vertex, pressing pain when touched; worse in evening; from heat of bed; in morning when awaking; smarting and burning after scratching.
Dry, offensive, scabby, easily bleeding, burning eruption begins on back of head and behind ears, with sore pain and cracks; better from scratching.
Contractive pain as from a band around cranium, with sensation as if flesh was loose, followed by inflammation, swelling and caries of bones; worse in wet, cold weather, and when at rest; better from motion.
Painful tingling on vertex and in temples.
Headache every day, as though head would burst.
Throbbing headache at night.
Sick headache, very weakening, once a week or every two weeks; pains generally lacerating and stupefying, numbing.
Every step is felt painfully in head.
Scalp
Roots of hair painful, especially to touch.
Severe stitching on forehead, also on scalp.
Hair dry, falling off, scalp sore to touch, itching violently, in the evening, when getting warm in bed.
Dandruff.
Outer head
Humid, offensive eruption, with thick pus, yellow crusts, itching, bleeding and burning.
Fontanelles close too late.
Inner head
Tearing or stitches in forehead or temples, from within outward; worse from eating or stooping; better when pressing head together, and when moving about.
Shooting in forehead from in-outward; worse from stooping or eating; better from pressing teeth together, and when moving head.
Pressure in temples and tight feeling in brain when thinking or doing mental work.
Sensation of emptiness in occiput; worse in open air and from talking; better in-doors.
Drawing and tearing through head.
≡ more ...