Sublimated Sulphur, Sulpher, Sul, Sulfur, Sulf, Sulph.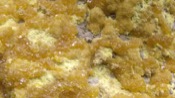 Have you ever used Sulphur? Yes No


Below are the main rubriks (i.e strongest indications or symptoms) of Sulphur in traditional homeopathic usage, not approved by the FDA.
MIND
Mind
Melancholy and sadness, with grieving ideas; uneasiness respecting the patient's own condition and prospects, and about business affairs, so as to become exceedingly unhappy, disgusted with life, and even to despair of eternal salvation.
Egoistic.
Dwells on religious or philosophical speculations; anxiety about soul's salvation; indifference about lot of others.
Vexatious and morbid ideas of the past arise and cannot be got rid of.
Hypochondriac mood (through the day, in evening he is inclined to be merry).
Strong tendency to weep, and frequent weeping, alternating sometimes with involuntary laughter.
Disconsolate humour, with scruples of conscience, even with respect to the most innocent actions.
Fits of anguish, esp. in evening; timidity and great tendency to be frightened.
Precipitation, restlessness, and impatience.
Peevishness; childish peevishness in grown people.
Ill-humour, moroseness, quarrelsome disposition, disposition to criticise, and dislike to conversation.
Irritability, disposition to anger and passion.
Great indolence and repugnance to all exertion, both mental and bodily.
Too lazy to rouse himself up, and too unhappy to live.
Indecision, awkwardness (at his work), inadvertence, anthropophobia, with feeling of giddiness.
Stupidity and imbecility, with difficulty in understanding and in answering correctly.
In afternoon, stupefied state after a glass of wine.
Great weakness of memory, chiefly for proper names.
Misplaces or cannot find the proper word when he speaks.
Mistakes as to time, thinks it earlier than it is; at vesper Belladonna bell (7 p.m.) insists it is only 5 p.m., quite angry when one attempts to convince her of her error.
Forgetfulness of that which is about to be uttered.
Great flow of ideas, for the most part sad and unpleasant, but sometimes gay, and interspersed with musical airs.
Strong tendency to religious and philosophical reveries, with fixed ideas.
Incoherent speech.
Mania, with a settled idea of having all things in abundance, possessing beautiful things, &c.
Delirium, with carphologia.
Errors respecting objects, a hat is mistaken for a bonnet, a rag for a handsome gown, &c.
Foolish happiness and pride; fantastic illusions of the intellect, esp. if one turns everything into beauty, as an old rag or stick looks to be a beautiful piece of workmanship; everything looks pretty which the patient takes a fancy to.
Melancholia and epilepsy, with strong impulsive tendency to suicide by drowning or leaping from window; five fits a day with at times two hours of unconsciousness, always agg. during menses (Sul. 10m cured).
≡ more ...