Sublimated Sulphur, Sulpher, Sul, Sulfur, Sulf, Sulph.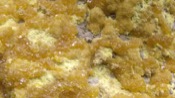 Below are the main rubriks (i.e strongest indications or symptoms) of Sulphur in traditional homeopathic usage, not approved by the FDA.


Have you ever used Sulphur? Yes No

MIND
Mind
Weak memory, particularly for names.
Dulness; difficult thinking; misplaces or cannot find proper words when talking or writing.
Foolish happiness and pride, thinks herself in possession of beautiful things; even rags seem beautiful (also when recovering from spasms).
Indisposed to everything (work, pleasure, talking or motion), in the evening.
Disgust, up to nausea, about any effluvia arising from his own body.
Melancholy mood; dwelling on religious or philosophical speculations; anxiety about his soul's salivation; indifferent about the lot of others.
Hypochondriac mood through the day; merry in evening.
Peevish; irritable; quick-tempered.
Excitable mood, easily irritated, but quickly penitent.
Great obstinacy, dislike to have any one near him.
≡ more ...