Sublimated Sulphur, Sulpher, Sul, Sulfur, Sulf, Sulph.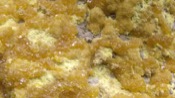 Have you ever used Sulphur? Yes No


Below are the main rubriks (i.e strongest indications or symptoms) of Sulphur in traditional homeopathic usage, not approved by the FDA.
MOUTH
Mouth
Ptyalism from abuse of Merc Viv mercury, or during a fever.
Blisters in mouth; thirst.
Gums and teeth
Great sensitiveness of teeth.
Teeth feel too long.
Tearing toothache on left side.
Pulsating and boring in teeth, worse from heat.
Toothache coming on in open air, or from least draught, or at night in bed, or from washing, with cold water; with congestion to head or with stitches in ears.
Painful feeling of looseness of teeth.
Swelling of gums, with beating pain in them.
Bleeding of gums.
Tongue
Tongue white with red tip and borders, mostly in acute diseases; white or yellow; brown and dry; furred in morning, but wears off during day (chronic cases).
Taste
Saliva profuse, with nauseous taste, "all her trouble seems to be caused by this nauseous saliva".
Bad smell from mouth, mostly after eating.
Taste; sour; bitter; sweetish; foul, when awaking in morning.
Tongue etc
Talking 2, 28, 36.
≡ more ...