Sublimated Sulphur, Sulpher, Sul, Sulfur, Sulf, Sulph.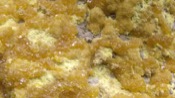 Have you ever used Sulphur? Yes No


Below are the main rubriks (i.e strongest indications or symptoms) of Sulphur in traditional homeopathic usage, not approved by the FDA.
NOSE
Nose
Boring in root of nose.
(Itching and) burning in nostrils.
Inflammatory swelling (redness) of nose, chiefly at extremity, or in alae nasi (agg. in r.).
Tip of nose red and shiny.
R. ala nasi and entire septum inflamed and painful to touch.
Inflammation, ulceration, and scabies in nostrils.
Cracking in nose, like the bursting of a bladder full of air.
Ephelides and black pores in nose.
Herpes across nose, like a saddle.
Obstruction of nose, sometimes semilateral.
Great dryness of nose.
Discharge of burning mucus, or secretion of a thick, yellowish, and puriform mucus in nostrils.
Blood or sanguineous mucus is blown from nose.
(Discharge of watery fluid from nose tinged with blood, and synchronous with praecordial pain, severe headache and pains in soles of feet, high-coloured urine and confined bowels symptoms followed on a severe wetting.)
R. T. C.).
Bleeding of nose, esp. in morning, and sometimes with vertigo (at 3 p.m., afterwards it feels sore when touched).
Smell increased or diminished, and also entirely lost.
Offensive odour of nasal mucus on blowing nose.
Offensive odour of nasal mucus, as of an old catarrh.
Discharge
Dry coryza, or fluent coryza, with copious secretion of mucus.
Burning coryza in open air, obstructions of nose in room.
Frequent, even spasmodic sneezing, sometimes preceded by nausea.
Smell of inveterate coryza, of burnt horn or of smoke.
≡ more ...