Sublimated Sulphur, Sulpher, Sul, Sulfur, Sulf, Sulph.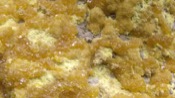 Have you ever used Sulphur? Yes No


Below are the main rubriks (i.e strongest indications or symptoms) of Sulphur in traditional homeopathic usage, not approved by the FDA.
NOSE
Nose
Smell before the nose as from an old catarrh.
Nosebleed at 3 P.M., with vertigo, afterwards nose sore to touch.
Bloody discharge when blowing the nose.
Profuse catarrhal discharge of burning water.
Dry ulcers, or scabs in nose.
Swelling and inflammation of nose; red nose.
Freckles and black pores on nose.
Discharge
Fluent, burning coryza, out-doors, nose stopped up in-doors.
Chronic stoppage; also of one nostril.
≡ more ...