Sublimated Sulphur, Sulpher, Sul, Sulfur, Sulf Sulph.
Available
in 3C-30C, 200C, 6X-30X, 1M-10M, 30C, 200CH from $3.99
Purchase options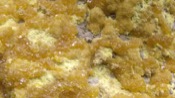 Below are the main rubriks (i.e strongest indications or symptoms) of Sulphur in traditional homeopathic usage, not approved by the FDA.


Have you ever used Sulphur? Yes No

SKIN
Skin
Dry, scaly, unhealthy; every little injury suppurates
Freckles
Itching, burning; worse scratching and washing
Pimply eruption, pustules, rhagades, hang-nails
Excoriation, especially in folds (Lycopodium Lyc)
Feeling of a band around bones
Skin affections after local medication
Pruritus, especially from warmth, is evening, often recurs in spring-time, in damp weather. Worse, at rest, when standing, warmth in bed, washing, bathing, in morning, 11 am, night, from alcoholic stimulants, periodically.
Better, dry, warm weather, lying on right side, from drawing up affected limbs.
≡ more ...