Sublimated Sulphur, Sulpher, Sul, Sulfur, Sulf, Sulph.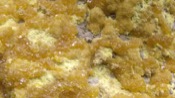 Have you ever used Sulphur? Yes No


Below are the main rubriks (i.e strongest indications or symptoms) of Sulphur in traditional homeopathic usage, not approved by the FDA.
SKIN
Skin
Voluptuous itching and tingling, with burning or soreness after scratching.
Itching, worse in warm bed.
Bright redness of whole body in scarlatina.
Freckles.
Yellow, brown, flat spots.
Skin rough, scaly, scabby.
Herpes, scabby and scurfy.
Sore feeling of the skin, with disposition to excoriation.
Soreness in folds of skin.
Ecchymoses from a slight bruise.
Furuncles, particularly on the nates.
Eruptions 4, 5, 7, 8, 9, 12, 22, 23, 24, 33, 34.
Erysipelas, with throbbing and stinging.
Dropsical swelling of external parts.
Ulcers with raised, swollen edges, bleeding easily, surrounded with pimples; with tearing, stinging pains and discharging fetid pus.
≡ more ...