Sublimated Sulphur, Sulpher, Sul, Sulfur, Sulf, Sulph.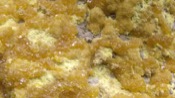 Have you ever used Sulphur? Yes No


Below are the main rubriks (i.e strongest indications or symptoms) of Sulphur in traditional homeopathic usage, not approved by the FDA.
THROAT
Throat
Scraping, roughness (rawness), and dryness in throat (hawking and clearing throat).
Pressure as from a plug or from a tumour in throat, sometimes with difficult deglutition.
Stitches in throat on swallowing.
Sensation as if a hard ball were ascending throat, and would close pharynx and take away the breath.
Contraction and painful sensation of constriction in throat when swallowing.
(Sensation of contraction in throat.)
R. T. C.).
Dryness of throat.
Pain as from excoriation, burning sensation and shootings in throat, agg. during empty deglutition (soreness begins on r. side and goes to l.; redness of tonsils).
Burning in throat as from sour eructations.
Sensation during empty deglutition as of swallowing a piece of meat.
Sensation as of a plug in throat, with empyreumatic taste.
Sore throat, with swelling of glands of neck.
Elongation of palate; swelling of palate and tonsils.
Sensation of a hair in throat.
Angina gangrenosa.
≡ more ...