Sublimated Sulphur, Sulpher, Sul, Sulfur, Sulf, Sulph.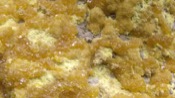 Have you ever used Sulphur? Yes No


Below are the main rubriks (i.e strongest indications or symptoms) of Sulphur in traditional homeopathic usage, not approved by the FDA.
VERTIGO, DIZZINESS
Vertigo
Vertigo while sitting, or standing, with nosebleed, in the morning; when stooping; when rising from bed; when walking in open air; when crossing a river; with nausea; with vanishing of sight; with inclination to fall to the left side; worse after meals, particularly after dinner.
Sensorium
Rush of blood to head, with roaring in ears and heat of face, worse when stooping, talking, in open air; better sitting in warm room.
Heaviness and fulness in forehead, worse when raising the head to a sitting posture; worse after sleep; after talking; better when sitting, or when lying with head high.
≡ more ...