Comfrey - Knit Bone, Consoude, Symphytum, Symphytum off, Symph.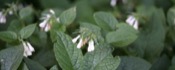 Please see our remedy relationship tool to view relationships across more than two remedies

< < Symphytum Officinale- main page

Below are the main rubriks (i.e strongest indications or symptoms) of Symphytum Officinale in traditional homeopathic usage, not approved by the FDA.
RELATIONSHIPS
Compare
Compare: Arnica Arn.; Calc Carb Calc. Phosphorus Phos.
Compare Fractures, Calc Carb Calc. ph. Injuries, Arnica Arn. (Arnica Arn., soft parts, Symp., hard; Arnica Arn., painful swelling with discoloration, Symp., without discoloration; Arnica Arn., sore, bruised lame; Symp., pricking, stitching, jagging pains), Calendula Officinalis Calen., Fl. ac., Hep Sulph Calc Hep., Silicea Sil., Stp., Led., Rhus Tox Rhus, Hyper. Effects of sexual excess, Arnica Arn.
Related
Related Calc phos Calc-p
Syphilinum (Luesinum) SYPHILINUM
(See Syphilinum (Luesinum) Luesinum)
Antidotes
Antidote to Canthar. (Green's Herbal). Causation.
Relations
Fractures. Injuries (to eye; bone; periosteum). Falls. Blows. Sexual excess.
REVERSE RELATIONSHIPS
These are relationship sections of other remedies that refer to Symphytum Officinale. Where the text is greyed out, a relationship with that remedy is already described above.