Yew, Tax.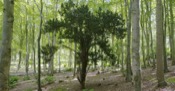 Below are the main rubriks (i.e strongest indications or symptoms) of Taxus Baccata in traditional homeopathic usage, not approved by the FDA.


Have you ever used Taxus Baccata? Yes No

MOUTH
Mouth
Mouth dry.
Gums and teeth
Sensation of coldness in (upper incisor) teeth.
Saliva
Saliva increased; extremely viscid; acrid.
Tongue
Burning pricking on tongue.
Tongue excoriated; moist; tremulous.
Taste
Bitter taste, like that of Cinchona.
≡ more ...