Arbor Vitae, Thuja, Thuya, Thuja Occidentalis, Thuya occidentalis



Available
in 2X-30X, 200X, 2C-30C, 200C, 1M-50M, CM, Q from $6.50
Purchase options
HPUS indication of Thuja Occidentalis: Warts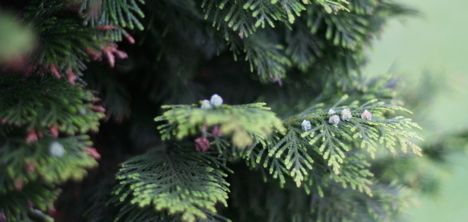 Homeopathic remedies are prescribed on the basis that in a tiny dilution like cures like, so while very dilute Thuja Occidentalis may help, unprocessed Thuja may be best avoided.
Below are the main rubriks (i.e strongest indications or symptoms) of Thuja in traditional homeopathic usage, not reviewed by the FDA.
< < Thuja - main page
EARS
Ear
Chronic otitis; discharge purulent
Creaking when swallowing
Polypi.
Constriction of ear
Discharges from ear
right
offensive smelling
like putrid meat
pus
watery
Sensation of fullness
morning
Heat
Inflammation; inside
media
Itching; in ear; burning
Noises in ear
afternoon
evening
open air
when swallowing
warm room
bubbling
buzzing
cracking
when swallowing
creaking
when swallowing
hissing
as from boiling water
ringing
right
roaring
left
afternoon; coming from open air
evening
open air
boiling sound
whizzing
Numbness
left
Sensation of opening in ear, through which the air penetrates on opening and closing the mouth
Pain
right
evening
during cough
while lying in bed
on swallowing
with profuse urine
extending to other parts; extending inward
extending to other parts; extending outward
behind ear
inside (in ear canal)
aching
boring pain in ear
burning; behind the ear
right
cramp in
right
evening
pulling in ear; behind the ear
pinching in
right
pressing
behind ear
spasmodic
inside ear
stitching, sudden, sharp
right
evening
evening; in bed
night
when swallowing
behind the ear
behind the ear; right
bowl-like part, by ear canal (concha)
in front of ear
tearing in
evening
evening; in bed
behind the ear
behind the ear; evening
bowl-like part, by ear canal (concha)
Pulsation
evening; in bed
Skin; out-breaks on skin
out-breaks on skin; behind ears; boils
out-breaks on skin; behind ears; scabby
weeping a sticky, glue-like moisture, sore on touch
polyp (growth on mucus lining)
bleeding
soft, easily bleeding
Stopped sensation
right
morning
evening
Swelling; inside (ear canal)
Tension
Tingling
Twitching
right
extending to mouth
Ear wax; increased
Hearing
Impaired
Too sensitive