Arbor Vitae, Thuja, Thuya, Thuja Occidentalis, Thuya occidentalis, Thuj.
HPUS
indication of Thuja Occidentalis:
Warts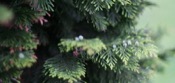 Below are the main rubriks (i.e strongest indications or symptoms) of Thuja in traditional homeopathic usage, not approved by the FDA.


Have you ever used Thuja? Yes No


< < Thuja- main page
EARS
Ears
Otalgia, with squeezing compression and violent shootings, esp. in evening.
Stitches into ear from the neck.
Sensation as if inner ear were swollen, with increased difficulty of hearing.
(Vascular deafness with scurfy head.)
R. T. C.).
Oozing from the r. ear, smelling like putrid meat.
Spasmodic pain in external ear.
Noise in the ear as from boiling water.
Roaring in l. ear, with cracking when swallowing saliva.
Hammering and tearing in ear, in evening, in bed, with frequent emission of urine, and coldness in legs and feet.
Pressive pain behind ears.
Orifice of l. meatus blocked up by a polypus, of raspberry-cellular vessels; pale red, bleeding readily when touched; muco-purulent discharge; deafness; shooting pains.
≡ more ...