Arbor Vitae, Thuja, Thuya, Thuja Occidentalis, Thuya occidentalis, Thuj.
HPUS
indication of Thuja Occidentalis:
Warts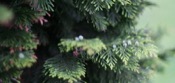 Have you ever used Thuja? Yes No


< < Thuja- main page

Below are the main rubriks (i.e strongest indications or symptoms) of Thuja in traditional homeopathic usage, not approved by the FDA.
EYES
Eyes
Flames of light, mostly yellow; looking into light of day, sees spots like bubbles of water moving.
Amblyopia; blurred sight better from rubbing; aching back into the head.
Thuja Occidentalis acts prominently on the sclerotica; useful in episcleritis, sclero-choroiditis anterior, and commencing scleral staphyloma.
Iritis, with condylomata on the Iris Versicolor iris; sharp sticking in the eye with much heat above and around the eye.
Better when eyes are warmly covered; if uncovered, feels as if a cold stream of air was blowing out through them; but sometimes a dull aching in the eye is relieved in the open air.
Granular lids, when granules are large, wart-like.
Chronic conjunctivitis, worse whenever his night's rest is disturbed.
Dry, bran-like tinea ciliaris; lashes imperfect and irregular.
Inflammatory softening of inner surface of lids.
Excellent for tarsal tumors.
≡ more ...