Arbor Vitae, Thuja, Thuya, Thuja Occidentalis, Thuya occidentalis



Available
in 2X-30X, 200X, 2C-30C, 200C, 1M-50M, CM, Q from $6.50
Purchase options
HPUS indication of Thuja Occidentalis: Warts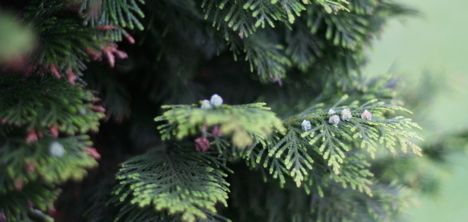 Homeopathic remedies are prescribed on the basis that in a tiny dilution like cures like, so while very dilute Thuja Occidentalis may help, unprocessed Thuja may be best avoided.
Below are the main rubriks (i.e strongest indications or symptoms) of Thuja in traditional homeopathic usage, not reviewed by the FDA.
< < Thuja - main page
FACE
Face
Bloated (see swelling, congestion)
Congestion (see heat)
Expression; idiotic
sickly
Freckles
Fungal growth, lower jaw
Heat
evening
burning
with cold elsewhere; hands
hot flashes
sensation of heat
with shuddering
Inflammation; indurated (hard from inflammation); temples
Motions of jaw; cracking in jaw; when chewing
cracking in jaw; when opening mouth wide
Lips; discoloration; pale
out-breaks on lips
pimples
pimples; upper
peeling
tension of surface; upper lip
warts
Numbness
Pain
left
daytime
morning
evening
night; 3 a.m.
open air
after suppressed out-break on skin
inflammatory
affected by movement (for better or worse); movement of lower jaw
affected by movement (for better or worse); when opening the mouth (see movement)
periodical
sitting
sudden pain; recurring, sudden pain
touch
walking
extending to other parts; ears
cheek; extending to head when coughing
boring
left
touch
cheek bones
upper jaw
burning (see heat)
left
lips
cheek bone
digging
cheek bones
pulling
right
evening
jaws; lower jaw
jaws; lower jaw; evening
jaws; upper jaw
sore, bruised
stinging; lips
sudden, sharp
jaws
jaws; lower
jaws; lower; morning
tearing
right
left
morning
jaw; lower; extending to chin
jaw; upper
Perspiration
on one side of face; not lain on
Quivering
Shocks followed by burning
Skin; discoloration; bluish; spots; following out-breaks on skin
discoloration; brown; spots
discoloration; dirty looking
discoloration; earthy
discoloration; lead-coloured
discoloration; pale
after eating
during heat
discoloration; red
during chill
within definite boundaries
erysipelas (inflamed from infection, deep red colour)
glowing red
during headache
sudden
discoloration; sickly colour
like insects crawling on skin (see skin)
greasy
itching (see skin); cheeks
out-breaks on skin
chin
nose; corners of
nose; flesh between nostrils
nose; on wings
temples
acne
black head
crusty, scabby
peeling in scales
eczema; nose; split of right wing
cold sores, herpes
cold sores, herpes; mealy
cold sores, herpes; cheeks
itching
itching; chin
moist
moist; nose
moist; nose; wings of nose
pimples
pimples; chin
pimples; nose
pus-filled pimples
red; on nose
red; erysipelas (inflamed from infection, deep red colour)
red; erysipelas (inflamed from infection, deep red colour); fluid accumulation
powdery flaking skin
tubercles (nodules, knob-like lumps)
blisters; nose; flesh between nostrils
blisters; nose; wings
shiny skin
as if oily
ulcers
corners of mouth
warts
chin
wrinkled; forehead; sensation of wrinkling
Stiffness, muscles; lower jaw
Swelling
fluid accumulation
glands in general
lips
Tingling
Twitching
lips
upper lip
Veins swollen
like marbled nets