Arbor Vitae, Thuja, Thuya, Thuja Occidentalis, Thuya occidentalis, Thuj.
HPUS
indication of Thuja Occidentalis:
Warts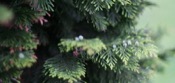 Have you ever used Thuja? Yes No


< < Thuja- main page

Below are the main rubriks (i.e strongest indications or symptoms) of Thuja in traditional homeopathic usage, not approved by the FDA.
FACE
Face
Red and hot, netted with veins; circumscribed burning, red cheeks; bloated, dropsical, erysipelatous.
Skin hot and red, peels off when washed.
Eruption leaves livid spots.
Faceache, from left malar to ear, teeth, nose and head; painful spots burn like fire, and are sensitive to the sun; also, after checked eruption.
Boring in left malar bone, relieved by touch.
Skin of the face greasy.
Lower face
Lips pale, swollen, peeling off.
White flat ulcers on inside of lips and in corners of mouth.
≡ more ...