Arbor Vitae, Thuja, Thuya, Thuja Occidentalis, Thuya occidentalis, Thuj.
HPUS
indication of Thuja Occidentalis:
Warts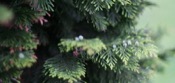 Have you ever used Thuja? Yes No


< < Thuja- main page

Below are the main rubriks (i.e strongest indications or symptoms) of Thuja in traditional homeopathic usage, not approved by the FDA.
MIND
Mind
Fixed ideas as if a strange person were at his side; as if the soul were separated from the body; as if the body, esp. the limbs, were of glass and would break easily; as if a living animal were in the abdomen.
Sensation as if whole body very thin and delicate and could not resist least attack; as if continuity of body would be dissolved.
Insane women will not be touched or approached.
Imbecility after vaccination, restless, drivelling.
Mental dejection.
Anxious apprehensions respecting the future.
Disquiet, which renders everything troublesome and repugnant.
The merest trifle occasions pensiveness.
Music causes him to weep, with trembling of the feet.
Hurried, with ill-humour, talks hastily.
Indisposition to any kind of intellectual labour.
Mental depression after childbirth.
Very depressed, sad, irritable.
Scrupulous about small things.
Feels she cannot exist any longer; quiet, shunning every body.
Aversion to life.
Moroseness and peevishness.
Overexcited, quarrelsome; easily angered about trifles.
The child is excessively obstinate.
In reading and writing he uses wrong expressions.
Talks hastily and swallows words.
Thoughtlessness; forgetfulness.
Slowness of speech and of reflection; seeking for words when in conversation.
Incapacity for reflection.
Cretinism.
≡ more ...