Arbor Vitae, Thuja, Thuya, Thuja Occidentalis, Thuya occidentalis



Available
in 2X-30X, 200X, 2C-30C, 200C, 1M-50M, CM, Q from $6.50
Purchase options
HPUS indication of Thuja Occidentalis: Warts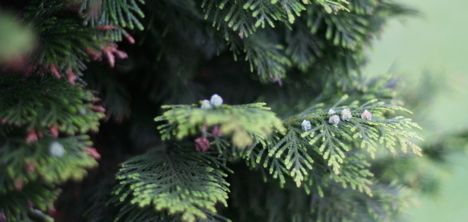 Homeopathic remedies are prescribed on the basis that in a tiny dilution like cures like, so while very dilute Thuja Occidentalis may help, unprocessed Thuja may be best avoided.
Below are the main rubriks (i.e strongest indications or symptoms) of Thuja in traditional homeopathic usage, not reviewed by the FDA.
< < Thuja - main page
MOUTH
Mouth
White blisters on side close to root, painfully sore
Drinks fall audibly into stomach
Pyorrhoea alveolaris.
Growths, blisters, swellings; blisters
blisters; burning
blisters; whitish
ulcers
Pain; as if burnt
Speech; unintelligible
unable to speak
Thrush (whitish flakes)
Gums and teeth
Teeth decay next to gums; very sensitive; gums retract
Bleeding; gums
Inflammation; gums
Pain; burning, raw and smarting; gums
sore; gums
Pulsating; gums
Swelling; gums
gums; painful
Gums; tumour on gums
Teeth; decay, hollow
decay, hollow; at edge of gums
decay, hollow; at roots
decay, hollow; sides of teeth
crumbling
discoloured; black
discoloured; yellow
grinding
during sleep
looseness
morning
numbness
pain
incisors
molars
upper teeth
lower teeth
left
afternoon
evening
night; before midnight
cold air
open air
in cold air
when pulled in from air
on blowing nose
from cold; from anything cold
from cold; from cold drinks
cold; cold water
diverting attention
from certain foods or drinks; drinking tea
while eating
while eating; from chewing
from excitement
heat; warm room
in women; before period
in women; after period
pulsating
while reading
sneezing
when thinking about it
when smoking tobacco
from touch
from touch; of tongue
wandering pain
extending to other parts; ear
extending to other parts; neck
as if tooth would burst
corrosive
pulling
as if being bitten
pressing; pressing apart, expansive
sore, bruised
stitching, sudden, sharp, stinging; extending to ear
stitching, sudden, sharp, stinging; incisors
tearing
electric shocks
Saliva
Dryness
morning
Saliva; bitter
bloody
metallic tasting
mucus, slime; morning
Salivation
Tongue
Tip of tongue very painful
Ranula; varicose veins on tongue and mouth
Biting self; tongue
Discoloration; tongue; blue
tongue; yellow
Growths, blisters, swellings; blisters; tongue
blisters; tongue; burning
blisters; tongue; edges
cyst under tongue, from obstructed salivary gland (ranula)
like jelly; bluish-red
pus-filled pimples; tongue; tip
ulcers; tongue; hardened
ulcers; tongue; painful; to touch
ulcers; tongue; edges
left, then right
ulcers; tongue; under
Pain; burning, raw and smarting; tongue
burning, raw and smarting; tongue; tip
cutting; tongue
sore; tongue
tip
Prickling; tongue
Swelling; tongue
tongue; one-sided; right
tongue; painful when touched
Thrush (whitish flakes); tongue
Tongue; red patches on tongue (mapped or geographic tongue)
varicose veins
Taste
Saliva; sweet (see taste)
Taste; bad
bitter
morning
bread tastes bitter
weet; bloody
dry taste; bread
like rotten eggs
morning
fatty, greasy (see rancid)
flavourless
evening
after eating
soup tastes flavourless, although it is salted as usual
nauseous
salty; food tastes salty
food does not taste salty enough
sour
stale
sweetish
evening and after eating meals
after eating
food tastes sweet
tasteless, lacks taste
Palate
Dryness; palate (roof of mouth)
Pain; palate (roof of mouth)
burning, raw and smarting; palate (roof of mouth)
pressing; palate (roof of mouth)
sore; palate (roof of mouth)
Roughness; palate (roof of mouth)