Arbor Vitae, Thuja, Thuya, Thuja Occidentalis, Thuya occidentalis



Available
in 2X-30X, 200X, 2C-30C, 200C, 1M-50M, CM, Q from $6.50
Purchase options
HPUS indication of Thuja Occidentalis: Warts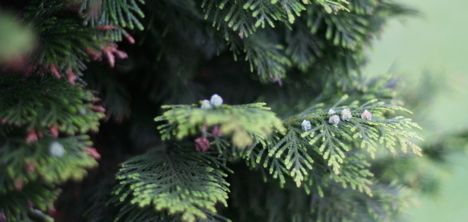 Homeopathic remedies are prescribed on the basis that in a tiny dilution like cures like, so while very dilute Thuja Occidentalis may help, unprocessed Thuja may be best avoided.
Below are the main rubriks (i.e strongest indications or symptoms) of Thuja in traditional homeopathic usage, not reviewed by the FDA.
< < Thuja - main page
NOSE
Nose
Chronic catarrh; thick, green mucus; blood and pus
On blowing nose, pain in teeth
Ulceration within the nostrils
Dryness of nasal cavities
Painful pressure at root.
Sensitive to breathing in air
Nose bleed
morning
after rising
afternoon
evening
from blowing the nose
morning
from over heating
Catarrh
after measles, scarlet fever, or small pox
extending to frontal sinuses (lower forehead)
post nasal (see discharge)
Discharge from nose; blood
blood; morning, on blowing nose
brownish
crusts, scabs, inside
brown crusts
hard to remove, and leave raw and sore
removing causes pain and soreness
painful
on septum (flesh between nostrils)
wearing away skin
grey
greenish
hard, dry
offensive smelling
fetid
containing pus
suppressed
thick
watery
in open air
yellow
h-green
behind nostrils (see catarrh)
Dryness; inside
inside; morning; on waking
inside; evening
inside; night
inside; walking in open air
inside; in a warm room
Hardness; of wings
of wings; left
In heat
Itching
wings; right
inside
Odours, imaginary and real; sour beer
of fermented beer
of fish-brine
Pain
on breathing in
bones
root
gnawing, biting
burning, smarting; margins
pressing; root
sore, bruised; externally; touch
sore, bruised; inside
right
sore, bruised; margin
sore, bruised; septum (flesh between nostrils)
stitching, sudden, sharp
tearing; wings; left
ulcerative; inside; right
Skin or lining of nose; cracks; wings
discoloration; redness
like insects crawling on skin (see itching)
ulcer like lesions, leaving scars
eating through nose
polyp (growth up nose)
bleeds easily
powdery flaking skin nostrils (see discharges)
ulcers; inside
right
right; high up
ulcers; septum (flesh between nostrils), round ulcers
ulcers; wings
warts
Smell; acute, over sensitive
Swelling
left
hard
wings
left
Tension (see face)
bones
wings
Discharge
Running or blocked nose (coryza)
blocked
one-sided; right
evening
with headache
sensation as if blocked
left
night
open air
with cough
running, wet
morning
evening
in open air
dry
warm room
with inflammation larynx
movement
during stool
comes on suddenly
violent attacks
Sneezing
violent