Arbor Vitae, Thuja, Thuya, Thuja Occidentalis, Thuya occidentalis



Available
in 2X-30X, 200X, 2C-30C, 200C, 1M-50M, CM, Q from $6.50
Purchase options
HPUS indication of Thuja Occidentalis: Warts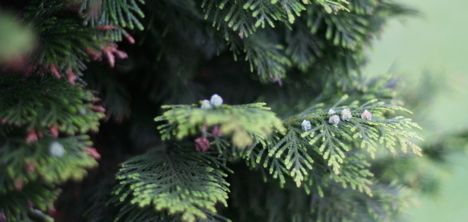 Homeopathic remedies are prescribed on the basis that in a tiny dilution like cures like, so while very dilute Thuja Occidentalis may help, unprocessed Thuja may be best avoided.
Below are the main rubriks (i.e strongest indications or symptoms) of Thuja in traditional homeopathic usage, not reviewed by the FDA.
< < Thuja - main page
RECTUM, ANUS, STOOL
Rectum
Cholera
Cholera; in babies
with vomiting or diarrhoea
Constipation; difficult stool; stool recedes
inactivity of rectum
insufficient, incomplete, unsatisfactory stool
during period
Constriction, contraction, closure, etc.
during period
painful
while rising from sitting
during stool
after stool
Cramp perineum (between rectum and genitals)
Diarrhoea; daytime only
morning
late morning
evening
from emotions; excitement
after certain foods or drinks; coffee
after certain foods or drinks; fatty food
after certain foods or drinks; onions
after breakfast
after eating
with fever; during fever
painless
periodical, recurring; at same hour
during small-pox
after vaccination
Dragging, heaviness, weight
Flatulence; evening
Flatulence
loud; during stool
sputtering
odourless
during stool
Fullness
alternating with sensation of emptiness
Haemorrhage from anus
Haemorrhoids; morning
external
large
preventing stool
touch
walking
Involuntary stool; during sleep
Itching; evening
night; before midnight
burning
after stool
extending into urethra during stool (urinary part of genitals)
perineum (between rectum and genitals)
late morning
Moisture
strong and sharp (acrid)
bloody
scratching
Pain; late morning
movement
while sitting down
during stool
after stool
after straining at stool
perineum (between rectum and genitals)
burning; morning
burning; evening
burning; night; before midnight
burning; while sitting
burning; after stool
after a hard stool
burning; while walking
burning; perineum (between rectum and genitals)
clawing squeezing, as from a claw in anus; during stool
cutting
perineum (between rectum and genitals)
drawing, pulling; extending upwards
griping
pressing (pressure); while sitting
pressing (pressure); perineum (between rectum and genitals, see prostate gland)
soreness
morning
sticking
perineum (between rectum and genitals)
sudden, sharp; evening
sudden, sharp; night
midnight
sudden, sharp; alternating with burning in foreskin
sudden, sharp; alternating with itching in head of penis (glans)
sudden, sharp; while sitting
sudden, sharp; after stool
sudden, sharp; after walking
sudden, sharp; walking in open air
sudden, sharp; extending to other parts; bladder
sudden, sharp; extending to other parts; genitals; urethra (urinary part of genitals)
sudden, sharp; extending to other parts; genitals; hip and head of penis (glans)
sudden, sharp; extending to other parts; upward
sudden, sharp; perineum (between rectum and genitals)
tearing
twitching
urge to stool, or urinate, but producing nothing; before period
urge to stool, or urinate, but producing nothing; during stool
Paralysis (see inactivity)
Prolapse
Sensitive
Skin and lining; abscess
cauliflower growth
wart-like growth
flat
sore
out-break on skin around anus
blotches
excoriated (as if grazed, chaffed)
from acrid moisture (strong and sharp)
perineum (between rectum and genitals)
splits in lining of rectum
fistula (additional hole)
perspiration about the anus and perineum (between rectum and genitals)
morning
tubercle on perineum (between rectum and genitals)
Closing
Swelling of anus; line of perineum (between rectum and genitals)
Urging, desire to stool (see pain; urge to stool, or urinate, but producing nothing); night
urge to stool, or urinate, but producing nothing); while smoking
urge to stool, or urinate, but producing nothing); during urination
Sensation of weight; and a feeling as if a plug were wedged between the pubic bone and coccyx (bottom tip of spine, see lump, dragging)
Worm; worms
tape worm (flat worm)
Stool
Like balls
Bloody
in streaks
Brown
Copious
Fatty, greasy
oily-looking normal consistency
Forcible, sudden, gushing
Frequent
Hard
Knotty, nodular, lumpy
Large
Food appears to be passed undigested (lientery)
Odour; offensive
Pasty, mushy
Scanty
Shooting out
Soft
Thin, liquid
Watery
yellow
White
Yellow