Arbor Vitae, Thuja, Thuya, Thuja Occidentalis, Thuya occidentalis, Thuj.
HPUS
indication of Thuja Occidentalis:
Warts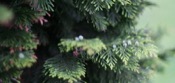 Below are the main rubriks (i.e strongest indications or symptoms) of Thuja in traditional homeopathic usage, not approved by the FDA.


Have you ever used Thuja? Yes No


< < Thuja- main page
THROAT
Throat
Roughness and scraping in throat.
Pressure and pain as from excoriation, in throat and palate, during deglutition.
A feeling of upward pressure in soft palate.
Necessity to swallow.
Shootings from gullet to ears.
Swelling of tonsils and throat.
Ulcers in throat and mouth, like chancres.
Accumulation of a large quantity of tenacious mucus in mouth, which is hawked up with difficulty.
Painful swallowing, esp. empty swallowing, or that of saliva.
Throat feels raw, dry, as from a plug, or as if it were constricted when swallowing.
Hawking up of mucus of red colour, like blood.
(Exophthalmic goitre.)
C. Sargent, of Chicago.)
≡ more ...