Stinging-nettle, Urt-u.
HPUS
indication of Urtica Urens:
Burns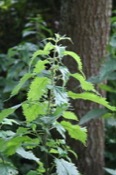 Have you ever used Urtica Urens? Yes No


Below are the main rubriks (i.e strongest indications or symptoms) of Urtica Urens in traditional homeopathic usage, not approved by the FDA.
HEAD
Head
Fulness in head, sensation of rush of blood and dulness; all day, with giddiness.
Dull aching in occiput and over eyes.
Headache
Terribly giddy, as if I were going to topple forwards on my head; then headache (B).
Headache agg. over eyes.
Headache with stitches in region of spleen.
Pain in r. side of sinciput; and in r. side of face, extending to malar-bone; over r. eye and eyeball; over eyes during the day and evening; neuralgic, in r. side of forehead and face at 9 p.m.
Stinging pain in r. parietal bone forcing me to rub and press it.
Scalp
Urticaria of scalp suddenly appearing and determining internally.
≡ more ...