Stinging-nettle Urt-u.


Available
in 2C-30C, 200C, 2X-30X, 1M-100M, Q from $6.50
Purchase options
HPUS indication of Urtica Urens: Burns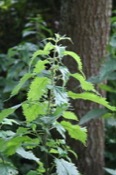 cookies

Below are the main rubriks (i.e strongest indications or symptoms) of Urtica Urens in traditional homeopathic usage, not reviewed by the FDA.


Please see our remedy relationship tool to view relationships across more than two remedies
RELATIONSHIPS
Compare
Compare: Medusa Medusa; Nat Mur Nat-mur.; Lac Caninum Lac. Can.; Ricinus Communis Ricin (diminished mammary secretion); Bombyx; Rhus Tox Rhus; Apis Mel Apis; Chloralum Chloral.; Astacus Fluviatilis Astac.; Pulsatilla Puls ( urticaria); Boletus luridus and Anacardium Occidentale Anacard ( urticaria tuberosa); Lycopodium Lycop. AND Hedeoma Pulegioides Hedeoma (uric acid conditions); Formica Rufa Formica.
Compare Gout, fever, spleen, Nat Mur Nat m. Dropsy, uraemia, gravel, gout, Ur. ac., Urea Urea, Urinum. Fever, vertigo, spleen, Querc. Spleen, Ceanothus Americanus Cean. Rheumatism of right deltoid, Sanguinaria Canadensis Sang. Secretion of milk, Ric., Pulsatilla Puls. Urticaria, Apis Mel Apis, Nat Mur Nat. m., Ast. fl., Medusa Medusa, Homarus Homar, Pariet. Causation.
Related
Related Form
Nat Mur Nat-m
Ocimum Canum Ocim
Antidotes
Antidoted by Dock leaves (Rumex Acetosa Rumex obtus.) rubbed on the stung part lessen the pain; also the nettle's own juice, and the juice from the common snail.
Antidote to Apis Mel Apis (bee-stings).
Relations
Burns. Bee-stings. Blows. Suppressed milk. Suppressed nettle-rash.
≡ more ...