Ginger, Zingiber Officinale, Zing.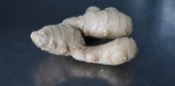 Please see our remedy relationship tool to view relationships across more than two remedies

Below are the main rubriks (i.e strongest indications or symptoms) of Zingiber in traditional homeopathic usage, not approved by the FDA.
RELATIONSHIPS
Compare
Compare: Caladium Seguinum Calad.
Compare Weight in stomach, Ab. n. Prepuce cold (Sulphur Sul. glans cold). Wakes 3 a.m., Bels., Nux Vomica Nux. Causation.
Antidotes
Antidoted by Nux Vomica Nux.
Antidote to Zingib. Nux Vomica Nux vom.
Relations
Melons. Bread.