Hylands Complete Flu Care
Flu, Influenza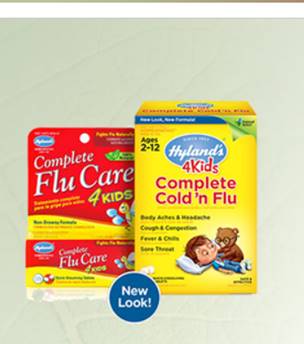 Homeopathic remedies are prescribed on the basis that in a tiny dilution like cures like, so while the very dilute homeopathic remedy may help, the raw product is often best avoided.
Below are the strongest indications (i.e. symptoms) of Hylands Complete Flu Care in traditional homeopathic usage, not reviewed by the FDA.
▲ GENERAL
General
New Hyland's Complete Flu Care is the answer for fast relief. Its two-phase action makes Hyland's Complete Flu Care a versatile solution to share with consumers looking to head off the flu early, or to relieve the nasty symptoms after the flu has set in. Unlike other over-the-counter alternatives, Hyland's Complete Flu Care is safe for the entire family, aspirin-free and works without side effects.
Indications for Use: For non-drowsy relief of fever and chills, body aches, headache, cough and congestion.
Formula:
Eupatorium Perfoliatum 3X - relieves body aches, headaches with pressure in eyes
Bryonia Alba 3X- relieves body aches, made better by wrapping up, sitting still
Gelsemium Sempervirens 3X - relieves headache with pressure and feeling of band around head
Euphrasia Officinalis 3X - for runny nose, cough, fever, chills
Kali Iodatum 3X - relieves headache, runny nose, fever
Anas Barbariae Hepatis Et Cordis Extractum 200c - relieves early onset flu symptoms