Hylands Tiny Baby Cold Tabs
Cold, Sniffle, Sneeze, Cplus, C-plus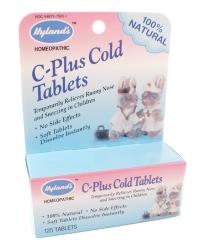 Below are the strongest indications (i.e. symptoms) of Hylands Tiny Baby Cold Tabs in traditional homeopathic usage, not reviewed by the FDA.
▲ GENERAL
General
When your child starts to sneeze and sniffle, you don't have to feel helpless. For generations, wise mothers have used Hyland's C-Plus Cold Tablets to ease the drippy misery. Each tablet contains three homeopathic botanicals that relieve the uncomfortable symptoms. Especially formulated for ages one through six
Ingredients
Eupatorium Perfoliatum 2X, Euphrasia Officinalis 2X, Gelsemium Sempervirens 3X, Kali Iodatum 3X
Uses are based on traditional homeopathic practice and have not been reviewed by the FDA.