Ranunculus Sceleratus
Marsh Buttercup
HPUS label indication: Burning pains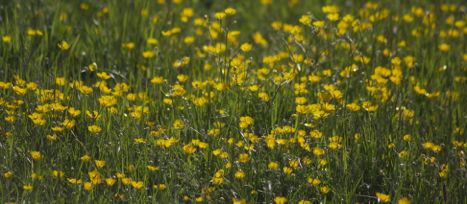 Below are the strongest indications of Ranunculus Sceleratus in traditional homeopathic usage, not reviewed by the FDA.
Is more irritating than others of this botanical family, as seen in the skin symptoms. Boring, gnawing pain very marked. Pemphigus. Periodical complaints. Fainting with pain in stomach.
Dose
First to third potency.
Fluent coryza, with sneezing and burning micturition.
Frightful dreams about corpses, serpents, battles, etc
Gnawing in one spot left of vertex
Pain, headache; top of head (vertex)
Denuded patches
Burning and rawness of tongue.
Tongue mapped
Mouth sore and raw
Teeth and gums sensitive
Pressure as of a plug behind right false ribs; worse, deep inspiration.
Pain over region of liver, with sensation as if diarrhoea would set in
Pain; as if diarrhoea would come on
Sensation as if diarrhoea would come on
Sensation of a plug behind umbilicus
Sore burning behind xiphoid cartilage.
Bruised pain and weakness in the chest every evening
Weakness
Integument sensitive
▲ ▼ EXTREMITIES, LIMBS (click for more)

Corns, with burning and soreness, especially when feet hang down
Sudden burning sticking In right toe
Boring pain
Pain; gnawing, biting; joints
Gout in fingers and toes.
After walking in open air
Vesicular eruption, with tendency to form large blisters
acrid exudation, which makes surrounding parts sore.
Abnormal growths; ulcers; phagedenic (spreading, obstinate ulceration)
▲ ▼ GENERALITIES (click for more)

Evening
Night; before midnight
Pain; boring
Pain;
gnawing, biting; externally
Prickling; externally
Symptoms not symmetrical; right
Buy Ranunculus Sceleratus

Homeopathic remedies are prescribed on the basis that in a tiny dilution like cures like, so while the very dilute homeopathic remedy may help, the raw product is often best avoided.
Sources
Entries on a white background are from Boericke's Materia Medica. Entries on a green background are from a reversed Kent's repertory, with some alterations to modernise the language. Uses are based on traditional homeopathic practice and have not been reviewed by the FDA.