Echinacea Purpurea
Purple Echinacea, Echin, Echinac, Echinacea, Echinacea Rudbeckia, Purple Cone Flower, Echinacea purpurea.



Available
in 2C-30C, 200C, 2X-30X, 200X, Q from $6.50
Purchase options
HPUS indication: Fever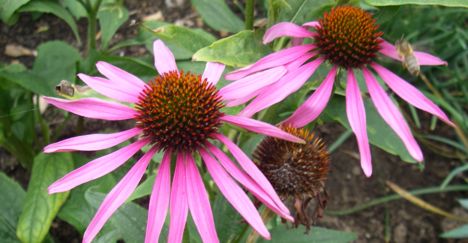 Homeopathic remedies are prescribed on the basis that in a tiny dilution like cures like, so while the very dilute homeopathic remedy may help, the raw product is often best avoided.
Below are the strongest indications (i.e. symptoms) of Echinacea Purpurea in traditional homeopathic usage, not reviewed by the FDA.
▲ GENERAL
General
Echinacea Angustifolia Echinacea purpurea. Black Sampson. (Eastern States of America.) N. O. Compositae. Tincture of fresh root.
Clinical
Diphtheria. Putrid fevers. clinical
Characteristics
I mention this plant, which is a popular remedy in the Eastern States, because it has been used in place of Ech N/A . Angustura Vera ang. It has probably a very similar action, and the root causes the same pungent sensation on lips and tongue as the tincture of Ech N/A . Angustura Vera ang. It well deserves a proving. The black root has been taken as a "signature" of the remedy in cases of low fevers where a black tongue was observed.
≡ more ...