Bizmuthum Metallicum
Bismuth Met., Bismuthum Metallicum, Bismutum Biz-m.


Available
in 4C-30C, 8X-30X from $6.50
Purchase options
HPUS indication of Bizmuthum Metallicum: Vomiting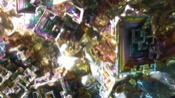 Below are the main rubriks (i.e strongest indications or symptoms) of Bizmuthum Metallicum in traditional homeopathic usage, not reviewed by the FDA.
▲ GENERAL
General
Apathetic and prostrated
Tearing, pinching pains
Internal heaviness
Swelled gums
Craves cold drink, which is vomited at once, or in great quantities when stomach becomes full
Foul belching
Vomits liquids only, or bilious after eating
Atrophia ablactatorum (Kreosotum Kre)
Gastric, alternating with head or face pains
Violent gastralgia (Atropinium Atro Chin---- ); with cramping or burning
Food presses like a load on one spot
Prostration; after stool
Cholera infantum, when the body remains warm
Black ulcers
Dry palms and soles
Region
DIGESTIVE TRACT Stomach
Intestines
WORSE
Eating; overeating
≡ show all authors ...