Symphytum Officinale
Comfrey - Knit Bone, Consoude



Available
in 4X-30X, 200X, 2C-30C, 200C, 1M-50M, CM from $6.50
Purchase options
HPUS indication of Symphytum Officinale: Prickling pain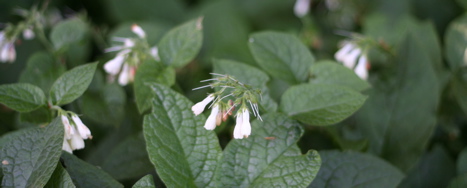 Symphytum Officinale most popular
Potencies
200C
30C
6C
6X
30X
Homeopathic remedies are prescribed on the basis that in a tiny dilution like cures like, so while very dilute Symphytum Officinale may help, unprocessed Symphytum Officinale may be best avoided.
Below are the main rubriks (i.e strongest indications or symptoms) of Symphytum Officinale in traditional homeopathic usage, not reviewed by the FDA.
▲ GENERAL
General
The root contains a crystalline solid, that stimulates the growth of epithelium on ulcerated surfaces. It may be administered internally in the treatment of gastric and duodenal ulcers. Also in gastralgia, and externally in pruritus ani. Injuries to sinews, tendons and the periosteum. Acts on joints generally. Neuralgia of knee.
Of great use in wounds penetrating to perineum and bones, And in non-union of fractures; irritable stump after amputation, irritable bone at point of fracture. Psoas abscess. Pricking pain and soreness of periosteum.
Dose
Tincture. Externally as a dressing for sores and ulcers and pruritus ani.
≡ show all authors ...
▲ HEAD
Head
Inflammation of inferior maxillary bone, hard, red, swelling.
Headache
Pain in occiput, top and forehead; changing places
Pain comes down bone of nose
≡ show all authors ...
▲ EYES
Eyes
Pain in eye after a blow of an obtuse body
For traumatic injuries of the eyes no remedy equals this.
From injuries
Pain; from a blow
sore, bruised, tender
from blow
≡ show all authors ...
▲ ABDOMEN
Abdomen
Pain; cutting; warmth of bed
Vomiting
Stomach; vomiting; in women; during pregnancy
≡ show all authors ...
▲ INJURIES AND ACCIDENTS
Injuries and accidents
Injuries in general
Injuries of bone (including broken, fractured)
≡ show all authors ...
▲ GENERALITIES
Generalities
Bones; brittle bones
slow repair of broken bones