Filix Mas
Male Fern, Felix-mas, Filix Fil.
HPUS indication of Filix Mas: Worms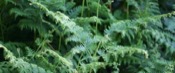 Below are the main rubriks (i.e strongest indications or symptoms) of Filix Mas in traditional homeopathic usage, not reviewed by the FDA.
≡ Reviews:

★ ★ ★ ★ ★

(1)
▲ GENERAL
General
A remedy for worm symptoms, especially with constipation. Tapeworm. Soporific conditions. Torpid inflammations of lymphatic glands ( Maceration of fresh root.) Pulmonary tuberculosis in young patients, no fever, with limited, ulcerated lesions, formerly classified as scrofula.
Dose
First to third potency. For the expulsion of tapeworm, a full dose of 1/2 to 1 dram of the Oleoresin, fasting
≡ show all authors ...
▲ ABDOMEN
Abdomen
Bloated
Gnawing-pain; worse eating sweets
Worm colic, with itching of nose, pale face, blue rings around eyes
Painless hiccough.
Vomiting
Diarrhoea and vomiting
≡ show all authors ...
▲ RECTUM, ANUS, STOOL
Rectum
Worm
complaints
tape worm (flat worm)
≡ more ...