Mentha Piperita
Peppermint Ment.
HPUS indication of Mentha Piperita: Dry cough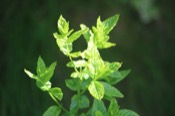 Below are the main rubriks (i.e strongest indications or symptoms) of Mentha Piperita in traditional homeopathic usage, not reviewed by the FDA.
▲ GENERAL
General
Stimulates the cold-perceiving nerves so just after taking it a current of air at the ordinary temperature seems cold. Marked action on respiratory organs and skin. Useful in gastrodynia, flatulent cold.
Dose
Tincture, 1 to 20 drops, to thirtieth potency. Locally, in pruritis vaginae
≡ show all authors ...
▲ CHEST
Respiration
Voice husky
Tip of nose sore to touch
Throat dry and sore, as if pin crosswise in it
Dry cough, worse from air into larynx, tobacco smoke, fog, talking; With irritation in suprasternal fossa (Rumex Acetosa Rumex.) Trachea painful to touch.
≡ show all authors ...
▲ ABDOMEN
Abdomen
Bloated, disturbing sleep
Infantile colic
Bilious colic with great accumulation of gas.
≡ show all authors ...
▲ GENERALITIES
Generalities
Sensitive; externally
≡ more ...