Homeopathy tools and site features
ABC Homeopathy has been a labour of love since 2001. In that time, it's expanded massively and now includes features that even our most regular visitors probably aren't familiar with. Here's a wee summary.
The Remedy Finder
You know about this already, right? For more see the instructions.
Glossary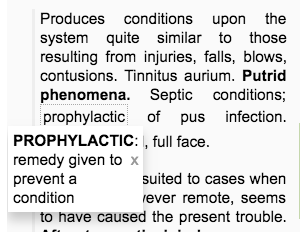 Because some of the language used in the materia medicas can be obscure, archaic or technical, we've added a glossary. Simply tap any word with a border around it.
Other repertories
A whole host of additional materia medicas are available by clicking the ' ≡ sections & sources' link on the the remedy information pages.
Alternatively you can click the 'more' link to show more of a particular heading and then click 'all repertories'.
In either case, the remedies are color coded to show you the source of information you are using. To see the colour codes, click 'sections and sources'.
Remedy Relationships
To see the relationships between two or more remedies, simply enter them both into the search box. This will then show you every relationship entry that mentions two or more of the entered remedies.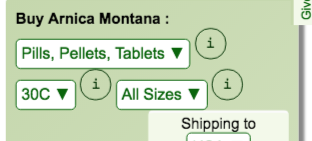 Dose Calculator
Clicking the i on the shop pages leads to information about the format, or the potency or the quantity calculator.
The quantitiy calculator allows you to see which size of bottle best covers a prescription along the lines of Take 4 pellets,three times a day for 3 days.
It can calculate the number of pills (or amount of liquid, if the format on the shop page is set to liquid) required, the number of days a certain number of pills / pellets should last, etc.
When you change the numbers and the calculator calculates how many pills (or amount of liquid), the shop items displayed will show you how many of each option would be necessary to fulfil your prescription.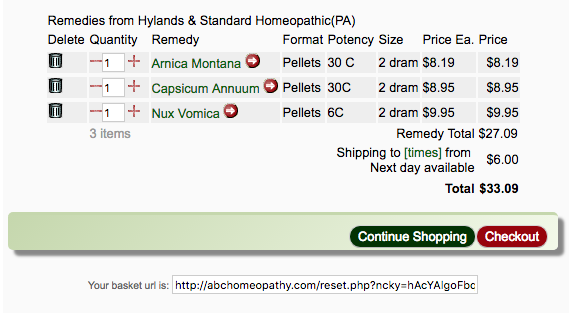 Send a client a basket
You can put remedies into a basket for your patients. The link to the basket is shown on the basket / checkout page, under the green bar (i.e. at the bottom of the image on the right.
Professional level symptoms
If you join ABC Homeopathy and click the 'professional homeopath' box under 'your materia medica sources', you will be able to see entries from the complete repertory and materia medica, including symptoms deemed only for professionals, such as cancers.