Two Drawer Unit
Aconitum Napellus, Allium Cepa, Antimonium Crudum, Antimonium Tartaricum, Apis Mellifica, Argentum Nitricum, Arnica Montana, Arsenicum Album, Belladonna, Bryonia Alba, Calcarea Phosphorica, Cantharis, Carbo Vegetabilis, Chamomilla, Cuprum Metallicum, Drosera Rotundifolia, Nux Vomica, Ferrum Phosphoricum, Gelsemium Sempervirens, Graphites, Hepar Sulphuris Calcareum, Hypericum Perforatum, Ignatia Amara, Kali Bichromicum, Kali Carbonicum, Kali Muriaticum, Kali Phosphoricum, Lachesis, Ledum Palustre, Lycopodium Clavatum, Mercurius Solubilis, Natrum Muriaticum, Natrum Sulphuricum, Phosphoricum Acidum, Phosphorus, Phytolacca Decandra, Pulsatilla Nigricans, Rhus Toxicodendron, Ruta Graveolens, Rumex Crispus, Sepia, Silicea, Spongia Tosta, Staphysagria, Sulphur, Sulphur Iodatum, Thuja Occidentalis, Veratrum Album Kit-v4.
Not available to buy through our store.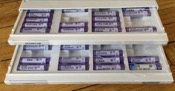 Below are the main rubriks (i.e strongest indications or symptoms) of Two Drawer Unit in traditional homeopathic usage, not reviewed by the FDA.